During pregnancy, you need to consume 3 portions of dairy products, or calcium-fortified food alternatives. If you are an adolescent who is pregnant, you will need to bring these recommended portions up to 5 per day.
Calcium is central for bone health. Your body makes calcium withdrawals and deposits each day, as bones are living tissues, that are constantly changing. So even when you're not pregnant, you need to be sure that your calcium bank has sufficient funds to ensure that your bones can be, and continue to be strong and healthy.
Without enough calcium, bones can become weak and break more easily. So all people need to have enough calcium to maintain strong, healthy bones.
Calcium is therefore an absolutely essential nutrient when it comes to your bone health. Calcium is also required for healthy teeth, muscles, extra-cellular fluid and other tissues. Other processes that it is involved in are neural transmission, muscle contractions, glandular secretion, vascular contractions and vasodilation.
2. Calcium during pregnancy
Once you're pregnant, calcium becomes even more vital than before. Your body is providing daily doses of between 50mg and 330mg to support the development of your baby's fetal skeleton. There is a profound interaction occurring between your body and that of your developing baby, and there is a high fetal need for calcium. (1) Additionally, calcium works alongside both phosphorus and Vitamin D.
Sufficient calcium needs to be supplied to your developing baby for:
– Strong healthy bones to develop
– Healthy teeth
– Healthy muscular development
– Neural transmission
– Glandular secretion
– Vascular contractions
– Vasodilation
– Extra-cellular fluid
– Effect on other tissues
3. Adequate calcium intake may reduce the risk or severity of pre-eclampsia
Additionally it has been shown in some medical studies that if your intake of calcium both before and during early pregnancy is adequate, then you may reduce the risk of pre-eclampsia, or it least make it less severe. Pre-eclampsia can cause serious complications for Mother or/and baby, in a small number of cases. Learn more about pre-eclampsia here.
4. Where can calcium be found?
Calcium is found predominantly in dairy products, but it can also be found in some fortified foods.
Dairy foods: milk, yoghurt & cheese
1 serving = 200ml glass of milk, 25g cheese, 125g of yoghurt
Recommended per day: 3 servings (or 5 in the case of adolescent pregnancies)
Fortified milk has higher levels of calcium, as well as Vitamin D.
5. What if I am dairy/lactose intolerant, or just don't like milk and other dairy products?
If you are lactose intolerant, you can buy products without lactose. If it is the case that you don't like milk, you could try disguising it in a fruit smoothie, or add it into a sauce that you are making for a main course.
Otherwise you can find it in fortified fruit juices, just check the packaging – these days there are plenty of options.
Soy milk and cheese are also calcium-enriched.
Other good sources are canned salmon with its mashed bones, dark leafy greens, tofu and broccoli.
6. Be careful about your caffeine intake, as well as high fibre foods
Caffeine and high fibre foods slow down the absorption of calcium. Therefore be aware of your intake of these.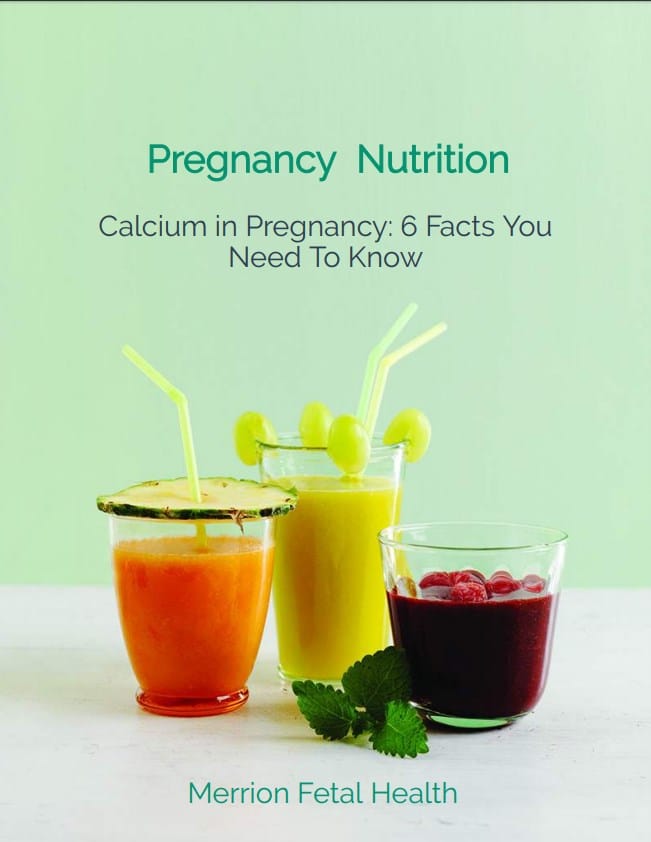 You may also find this article useful:
DISCLAIMER
All articles on the blog and website are intended as information only. Please do not consider any of the information provided here as a substitute for medical advice. At all times seek medical advice directly with your own doctor and medical team.
ANNOUNCEMENT
This website was formerly Merrion Fetal Health. The clinic has undergone a rebrand and is now known as Merrion Ultrasound.